ISO 7379 Shoulder Bolts (Grade 12.9)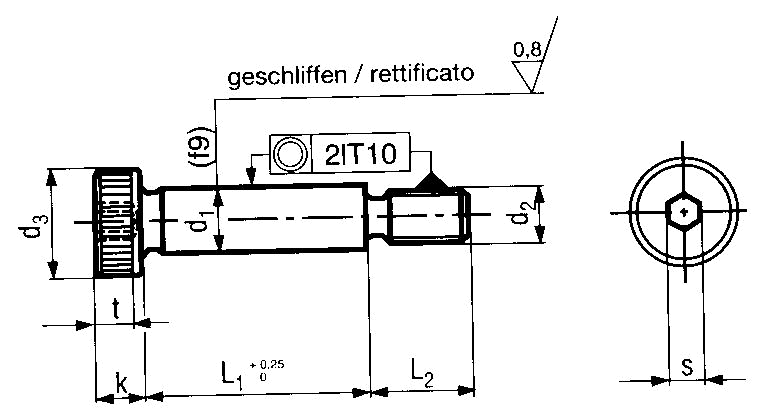 | | | | | | | | |
| --- | --- | --- | --- | --- | --- | --- | --- |
| d1 Nom.-� | 6* | 8 | 10 | 12* | 16 | 20 | 24* |
| max | 5.990 | 7.987 | 9.987 | 11.984 | 15.984 | 19.980 | 23.980 |
| min | 5.960 | 7.951 | 9.951 | 11.941 | 15.941 | 19.928 | 23.928 |
| d2 | M5 | M6 | M8 | M10 | M12 | M16 | M20 |
| 2IT10 | 0.12 | 0.12 | 0.12 | 0.12 | 0.14 | 0.14 | 0.17 |
| d3 | 10 | 13 | 16 | 18 | 24 | 30 | 36 |
| k max. | 4.5 | 5.5 | 7 | 9 | 11 | 14 | 16 |
| t min | 2.4 | 3.3 | 4.2 | 4.9 | 6.6 | 8.8 | 10 |
| L2 Nom. long/length | 9.5 | 11 | 13 | 16 | 18 | 22 | 27 |
| s | 3 | 4 | 5 | 6 | 8 | 10 | 12 |
*dimension specs. not acc.to ISO 7379
The only purpose of having the strength of a property class 12.9 on socket head shoulder screws, is to increase wear resistance on the shoulder. Due to the undercut between the thread and the shoulder, the tightening torque has to be lowered.
For applications where the shoulder is tightened against the work piece, an even lower torque should be applied. Preliminary testing is recommended to make sure it fits your application.
Stocking List
This is only a list of the most common sizes for other specifications or materials please contact fuller metric parts.
| | | | | | | | | |
| --- | --- | --- | --- | --- | --- | --- | --- | --- |
| d1/d2 | | � 6M5 | � 8/M6 | � 10/M8 | � 12M10 | � 16/M12 | � 20/M16 | � 24/M20 |
| L1 | 8 | X | | | | | | |
| | 10 | X | X | | | | | |
| | 12 | X | X | X | X | | | |
| | 16 | X | X | X | X | | | |
| | 20 | X | X | X | X | | | |
| | 25 | X | X | X | X | X | | |
| | 30 | X | X | X | X | X | | |
| | 35 | X | X | X | X | X | X | |
| | 40 | X | X | X | X | X | X | |
| | 45 | X | X | X | X | X | X | |
| | 50 | X | X | X | X | X | X | X |
| | 55 | | X | X | X | X | X | |
| | 60 | | X | X | X | X | X | X |
| | 70 | | | X | X | X | X | X |
| | 80 | | | X | X | X | X | X |
| | 90 | | | | X | X | X | X |
| | 100 | | | | X | X | X | X |
| | 120 | | | | | X | X | X |
***All information is strictly informative***